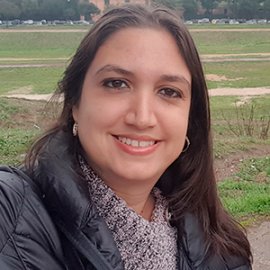 Opinion
The Master in Animal Law and Society has provided me with significant knowledge about the field of animal law in the world. The faculty is made up of renowned and internationally recognized professors in their areas of expertise. The methodology of the course facilitates the student's learning, as well as being accessible to all who wish to deepen into the subject. In my case, I was looking for a course where I could combine my training in veterinary medicine with my current studies in the field of law, and I can say that the Master has exceeded my expectations. I recommend the Master to all who are interested in the search for recognition of animals as sentient beings and subject of rights, because they deserve all our respect and consideration.
Gisele Scheffer (Brasil)
Ed. 2014-2015
Current job
Veterinarian and Law Student in Brazil
Why did you choose this Master?
Because this is the only Master specifically in Animal Law and for having renowned professors in the area.