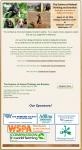 On March 17 and 18, the congress entitled "The Science of Animal Thinking and Emotion: Sentience as a Factor in Policy and Practice" will take place in the Kellogg Conference Center of the University of Gaulladet in Washington D.C.
The Congress, which is supported by The Humane Society of the United States, The World Society for the Protection of Animals, Compassion in World Farming, Humane Society Veterinary Medical Association and Minding Animals, brings together influential scientific experts in Animal Sentience with the goal of discussing and debating the latest advances on the topic, and the answers coming from society and the legal sciences with regards to the facts of animal cognition and the challenges for the future.
Professor Dr. Teresa Giménez-Candela, Full Professor of Roman Law and Coordinator of the Master in Animal Law and Society of the Universitat Autònoma de Barcelona, will participate in this important event, with the presentation entitled:
The influence of Sentience on Animal Law Research
on Tuesday, March 18, starting at 2:45 p.m.
More information